Indonesian Chat Room Online Without Registration
Welcome to the most friendly Indonesian Chat Room. Thank you for visiting our site. However, we can fulfill your dreams and build a new Indonesia together with you. There is no need to register or signup, just enter your nickname, and you are good to go. Selamat datang di Indonesia chat rooms! Selamat datang ke kami! Kami mencari-kan semua Orang Indonesia di seluruh dunia. Bagi Anda yang baru dan rumah asli indonesia tidak perlu mendaftar untuk memulai chatting dengan orang baru! Bergabunglah dengan kami untuk menjalin banyak teman Indonesia baru!
On the other hand, start chatting and meet new strangers of Indonesia with the same heart as you. Join the funniest chat with other Indonesians around the world. No doubt you can use all the features free at no hidden cost. In summary, whatever you are looking for, you will find it here. Whether you want to meet new people or a life partner. Indonesian Chat Rooms are ready to serve you 24 hours a day.
Indonesian Audio and Video Chat
However, we have made it simple to find and interact with your friends. No doubt, the most important addition to any chat environment is the ability to interact not only through text but also through video and voice calls. With the latest update, users can now enjoy video and voice calling features with friends in the video chat with included moderation. Providing you with a platform to connect with your friends in a fun and interactive manner. This chat comes with state-of-the-art video calling features. In fact, you can now choose to start a video call with known and unknown people who are total strangers to you.
Moreover, make a video and voice call right within your chatbox. These features are just like the ones you use on your native messaging app. These features are completely free, but please join our community on the blog if you would like to support us further. We don't have any plans to limit the features or restrict them to a specific user group. In the future, we will allow group video calls.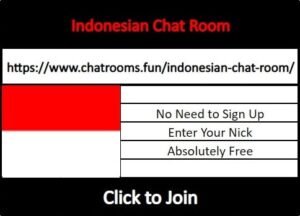 Instant Mobile-Friendly Chat Rooms
Best of all, the Indonesian Chat Rooms are compatible with almost all sorts of devices, including Android Phones and Tablets and iPhones, and iPad, so you can enjoy talking to people from anywhere at any time. You can chat with anyone, guest, or member from all over the world. Our Indonesian rooms are compatible with all sorts of devices and screen sizes.
Afterward, An exciting and enthusiastic mobile chat site, chatroom is a great place to find chatters to talk about anything. However, The chat platform is also mobile-friendly, which helps it to connect with both mobile users and smartphone users. Finally, you get to meet interesting people online every time you log in to chat. The perfect place to stay connected with your favorite chat buddies, this chat makes sure that you will never miss out on any fun activity going on within your chatters.
Related Chat Rooms:
Malaysian Chat Room, Indonesian Chat Room, Pakistani Chat Room, Indian Chat Room, Filipino Chat Room